The Senior Source hosted a Board of Directors Tour on June 7, 2023.
The tour gave four Board Members and five new team members a real-life, up-close view of four of the outstanding programs of The Senior Source.
Attending the Board of Directors Tour were Board Members Rebecca J. Wynne, of Salesforce; Shannon Freeze-Flory of Texas Instruments; Harsh Agarwal of Bank of America; and Patti Flowers of Patti Flowers Design Studio. The Board Members were accompanied by Stacey Malcolmson, Renae Perry, and the new team members of The Senior Source.
We spoke with Board Member Shannon Freeze-Flory and asked her about her reaction to the tour. Here are some of her reactions and comments.
We asked what was the most meaningful part of the tour for her. Shannon responded, "For me it was the seeing and feeling it vs hearing about it. Witnessing the seniors in both places of need (long-term care facility) and roles of giving (Foster Grandparents) showed me the range of this work and importance."
When asked if anything surprised her on the tour, Shannon said, "The huge variety of skills and resources needed to support this population. From financial planning, cyber security to benefits support the whole way to volunteer organization."
Shannon commented further when asked if she thought that anything was missing from the tour by saying, "I did not leave thinking anything was missing! I went into this not knowing what to expect and left feeling very involved and engaged. It's a wonderful experience. Thank you!"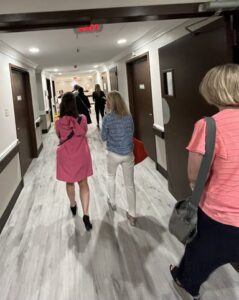 We wanted to know if she would recommend the tour to other board members. She enthusiastically responded, "Yes, I highly recommend that new board members take advantage of the board tour. In a few hours you can really get an understanding of what the team is doing to improve the lives of seniors as well as a feel for the passion and commitment that volunteers bring to this important work. I certainly felt more engaged in the vision and goals of the organization after this tour."
The Board of Directors Tour is a meaningful experience. There is no substitute for seeing the outstanding work of The Senior Source in person and up close.