Senior Companions
Some seniors wish to remain in their own homes but need help with daily living. Others are more active but desire to connect with and serve others. The Senior Companion Program tackles both needs by matching elderly seniors who need companionship with older adult volunteers who can help.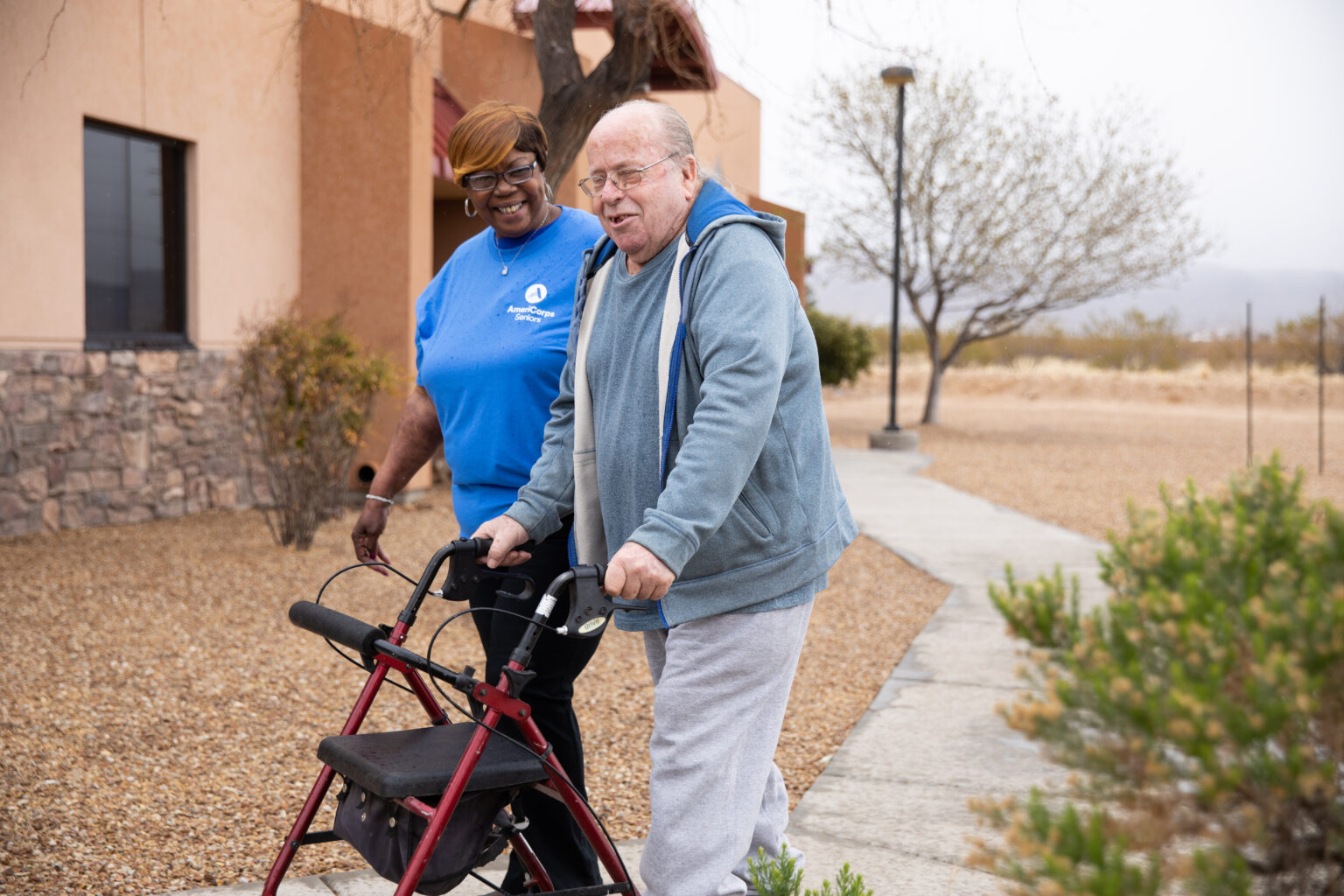 Get Started as a Volunteer
Serve as a companion to older neighbors. The program offers modest stipends to eligible volunteers to help offset the costs of volunteering.
More Info
About
Senior Companions
For more than 20 years, The Senior Source has sponsored The Senior Companion Program. Each volunteer (55 and older) serves in the homes of one or two elderly clients, providing assistance with daily needs, such as meal preparation, medication reminders and grocery shopping.

Senior Companion volunteers improve their own lives by staying active and civically engaged while directly enhancing the lives of those they serve. Research shows that strong social ties to friends, family and community helps preserve brain health, while isolation can contribute to cognitive decline.

It is funded, in part, by the AmeriCorps Seniors.
The Senior Companion Program
Success Story
Opal, a Senior Companion, has made life much better for Jimmie, age 90, and his family. Before Opal arrived, Jimmie's wife and his daughter, Renita, cared for him. Now, Opal provides companionship, ensures Jimmie has a meal each day, and allows his wife to take a moment for herself. Her help is a huge relief for Renita, who works full-time and has her own family to care for. Now she knows her parents are in good hands with Opal. When Opal isn't there, Renita says, even Coco (the couple's dog) misses her! Recently, the family experienced a rough patch as both Jimmie and his wife were admitted to the hospital at different times.
"I wouldn't know what to do without Ms. Opal," said Renita. "She's our anchor!"
Get Involved
Selected community organizations, such as the Methodist Health System, Parkland Memorial Hospital Geriatrics and Connect to Care, refer clients who need a companion to The Senior Source.
Senior Companion volunteers must commit to serving 15-40 hours per week. They receive ongoing training and supervision, in addition to a stipend for qualifying low-income older adults.

Thank You
Thank you to the AWARE Foundation for their continued support of the Senior Companion Program as we serve Senior Companions caring for those diagnosed with Alzheimer's.