Long-Term Care Ombudsman Program
Older adults in nursing homes and assisted living facilities should live out their later years with dignity and respect in a safe environment. Long-term care ombudsmen help ensure that happens for the 16,000 residents living in Dallas County facilities.
About The Program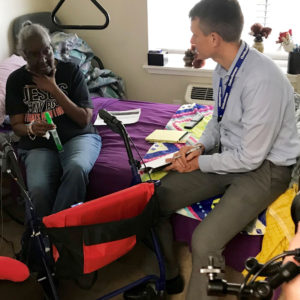 Our staff and volunteers in the Long-Term Care Ombudsman Program support and assist seniors living in nursing homes and assisted living facilities.
In addition, program staff advocate for legislative change relevant to long-term care residents.
We also serve as a resource for seniors and their families searching for a facility.
Through our Friendly Visitor Program, we place volunteers who spend time with those residents who rarely or never have visitors.
Visiting residents and talking with them about their care.
Identifying and resolving issues, such as unanswered call buttons, roommate difficulties, staffing, food and unsanitary conditions, on behalf of residents.
Advocating for overall quality of life and care.
Protecting residents' rights and confidentiality.
Empowering residents to have a voice in their care.
Vulnerable seniors living in nursing homes and assisted living facilities rely on ombudsmen to listen to their concerns and advocate on their behalf. If you are 21 years or older and have the time and concern, there's a resident waiting for you.
There is always a need for more volunteers to meet the needs of frail elderly in nursing homes. You can help by becoming a volunteer ombudsman!
Certification training by ombudsman staff through:
A total of 36 hours of training, including classroom training,
self-study assignments and onsite visits.
Completion of a 3-month internship in an assigned long-term care facility prior to being certified as an ombudsman by Texas Health and Human Services.
Ongoing monthly training sessions.