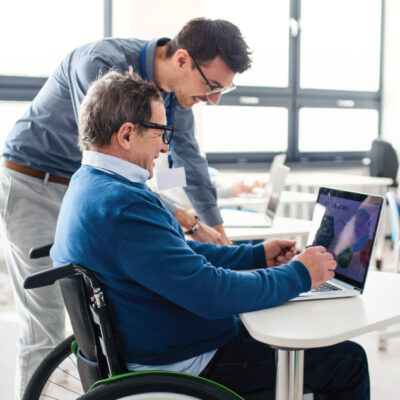 Stay Connected!
The Senior Source is proud to partner with Senior Planet from AARP. The Senior Planet program enables older adults to come together and find ways to learn, work, create, exercise, and thrive in today's digital age.
Through a variety of program offerings, older adults will feel more comfortable accessing technology and will improve their quality of life.
Video Chat with Zoom
Workshop
Tuesday, August 16
1:30 PM – 2:45PM
Zoom is a video chat platform that is becoming increasingly popular for attending conferences, talks, and events virtually. It's free and easy to use in a web browser or as an app on your smartphone. Come to this interactive workshop to learn how to connect and attend events anywhere, anytime, virtually!
More Info
Connecting To The Internet
Workshop
Tuesday, August 23
1:30 PM – 2:45 PM
Not always sure if your internet-enabled devices are connected to the internet? In this hands-on workshop, we'll go over how to check the WiFi connection on your PC, iPhone, or Android smartphone. We'll also cover how to use the hotspot from your smartphone and best practices for password protection and connecting to public WiFi.
More Info
Finding Information Online
Workshop
Tuesday, August 30
1:30 PM – 2:45 PM
The internet is an incredible resource, but finding what you're looking for can sometimes be daunting or time consuming. That's why finding what you're looking for online is such an important skill. This hands-on workshop will review helpful tips for using effective search terms, evaluating your search results, and searching within a reliable site for accurate information.
More Info
Google Workspace
Lecture
Tuesday, September 6
1:30 PM – 2:45 PM
Curious about the free tools from Google? Learn about some of Google's most popular productivity tools that are for personal use, as well as work-related ones. This lecture will introduce Docs, Sheets, Slides, Photos, and Drive. We'll explore some practical and creative uses and demonstrate how to make the most out of Google's many free templates.
More Info
Smartphone Photography
Lecture
Tuesday, September 13
1:30 PM – 2:45 PM
Interested in learning more about your smartphone camera? Come to this lecture to explore your smartphone's camera and some features like recording video, adding filters to pictures, and using your camera's timer! We'll also go over some basic tips for taking good selfies, selecting backgrounds, and using optimal lighting. This presentation will cover Android and iPhone.
More Info