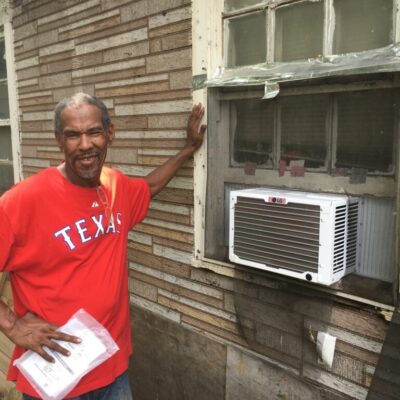 Beat the Heat 2023
For most of us, a broken air conditioner is an uncomfortable inconvenience. For a senior in Dallas, it can be life-threatening. Our Beat the Heat campaign makes it possible for The Senior Source to provide relief from the heat to Dallas area older adults who lack access to cool air in their homes.
Bigger and Better Than Ever for 2023!
We were so excited to host hundreds of seniors at our A/C Drive and Resource Fair! Thank you for your donation that is providing a cool home during this unbearable Texas heat! We are grateful for our partnership with TXU Energy to make this Beat the Heat event better than ever.
Thank you to our corporate sponsor:
And our distribution event host:
Thank you to our other sponsors:
Need an Air Conditioner Unit?
WHEN: SATURDAY, JULY 15, 2023 9 a.m. – 11:00 a.m.   
WHERE: Community Missionary Baptist Church (CMBC) – Cedar Hill Campus 
820 E. Wintergreen Road  Cedar Hill, Texas 75104 
Requirements:
Must be registered in advance
Live in Dallas
Age 60 and older
No other source of cool air in  the home